Thank you for visiting Rolling Thunder, Illinois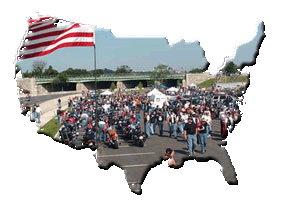 Chapter One, from Warrenville, Illinois (west suburban Chicago).

The major function of Rolling Thunder®, Inc. is to publicize POW-MIA issues: To educate the public that many American prisoners of war were left behind after all previous wars and to help correct the past and to protect future veterans from being left behind should they become prisoners of war-missing in action.
My name is Bill Sharpness, President of the chapter.  Our mission for the accountability of Prisoners of War (POW) and those Missing in Action (MIA) has not changed.  We have a live Prisoner of War, Bowe Bergdahl, held in Afghanistan right now!!   The United States has traded Russian spies for American spies and negotiated for hikers in Iran.  What about Bowe?  He's been there since 2009.  Call 202-224-3121 and leave a message for your U.S. Congressman and U.S. Senator.
This is what Rolling Thunder® is all about.  Not only bringing home Bowe, but finding out about all other POW/MIA's from previous wars.  We also help Veterans and we support other organizations that help Veterans. 

Rolling Thunder®, Inc. is a non-profit organization. Members donate their time because they believe in the issues we are working on.
RollingThunderIL1@gmail.com
Bill "Hawk" Sharpness
President, Chapter 1, IL,  630-669-1317
!!! REMEMBER !!!
"IT'S AN AMERICAN DUTY TO ACCOUNT FOR ALL PRISONERS AND THOSE MISSING"