Thank you for visiting Rolling Thunder, Illinois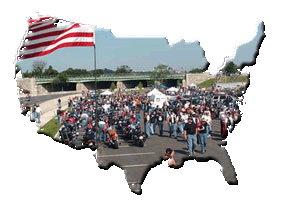 Chapter One, from Warrenville, Illinois (west suburban Chicago).

The major function of Rolling Thunder®, Inc. is to publicize POW-MIA issues: To educate the public that many American prisoners of war were left behind after all previous wars and to help correct the past and to protect future veterans from being left behind should they become prisoners of war-missing in action.
My name is Bill Sharpness, President of our chapter.
I would like to thank everyone in the United States and other countries that helped in the release of Sgt. Bowe Bergdahl, a live prisoner of war from Afghanistan. This mission is over but the POW issue is not. Chapter 1 Illinois at this time does not know of any live American POW's but that does not mean there are none. There are thousands of missing and some of those could very well be alive and being held. Our chapter will now look into the accountability of the missing in action. This is an American duty and something our politicians don't seem to care about. Their families deserve an answer. If anyone knows of, or has information on any missing service member, please let us know. We will take on the issue and won't quit. We will get results. Our chapter thanks all for their support. Ninety seven cents of every dollar we raise goes to the POW/MIA issue or helping veterans in need. No one gets paid here. We welcome you to join us. You do not have to be a veteran, or own a motorcycle or even a car. We are just a group of guys and gals, young and old trying to do the right thing. Regarding Bowe, we all heard of questions and even allegations regarding Bowe's capture. Our attitude was the questions didn't matter, get him home first and then let the military handle it. We have every confidence that our military knows how to resolve these circumstances.
Rolling Thunder®, Inc. is a non-profit organization. Members donate their time because they believe in the issues we are working on. View our charitable pedigree on our Contact Us page.
RollingThunderIL1@gmail.com
Bill "Hawk" Sharpness
President, Chapter 1, IL,  630-669-1317
!!! REMEMBER !!!
"IT'S AN AMERICAN DUTY TO ACCOUNT FOR ALL PRISONERS AND THOSE MISSING"